Having a website is one step in creating your online office but you need to be found to get business and this is only possible by being on the first page of Google. We will show you some of the Google SEO Ranking Factors to implement to help you rank your website on top pages.
How do your customers find you?
Nowadays, people go online to search. They us search engines like Google, Yahoo, Bing, AOL and others.
The fastest and legit way to gain exposure on search is to do paid search ads. You need to build your organic search engine result so as to gain or increase visibility. SEO is to build your ranking organically without spending on ads to be on top pages of search engine.
To rank a website or page on Google can be an herculean task but knowing the things to consider for SEO ranking makes the journey a smooth ride to the top for you.
There are over 200 ranking factors considered by Google search ranking algorithm to rank a site above the other and most of it are a secret. In this post, you will know most of the factors considered to ranking a site on first page.
You can conduct a web audit to know the technical issues to fix so as to enable you outrank your competitors
What are ranking factors?
Ranking factors are a whole series of algorithms considered by search engine to decide which site ranks top and which ranks below.
To serve you the most useful (relevant) information, Search algorithms look at many factors, including the words of your query, relevance and usability of pages, expertise of sources, and your location and settings.
Types of Google ranking factors
We have categorized this into three types and from thence we can list out some important known factors around which you can optimize your website pages.
Most times people think it is just about on- and off-page ranking factors, but it goes beyond that:
On-Page Ranking Factors: This is done on the page and involves keywords and informational quality of your pages.
Off-Page Ranking Factors: This is the effort done outside your site and primarily involve backlinks.
Technical Ranking Factors: It involves the overall performance of your website and not just the individual pages.
On-page Google ranking factors
Keyword targeting is used to target or tailor your content based on searchers intent.
Keywords play a vital role for an effective SEO strategy. Keywords are the search terms that people use when they go on a search page to find what they're looking for. It is a good practice to conduct keyword research before putting up or creating contents on your blog.
The research process allows you to better understand what your audience is searching for and create content that directly addresses these search queries.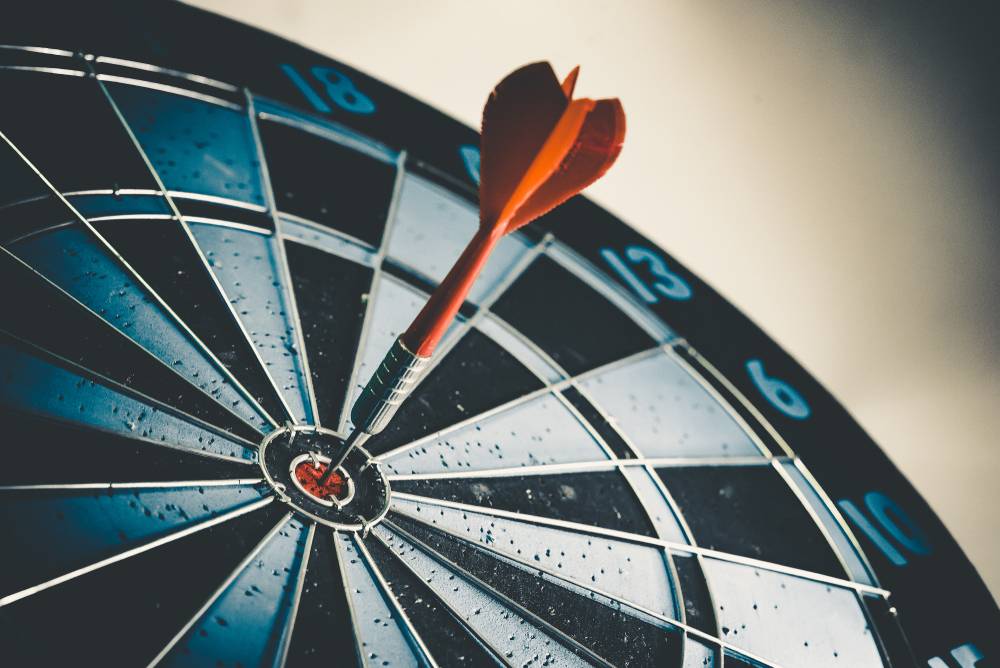 How to Find Your Target Audience
The use of Google Analytics to learn more about your customers.
Create a reader persona to target blog content.
Look at social media analytics.
Use Facebook Insights to know more.
Check website performance.
Engage with social media audiences.
After performing a keyword research and know which keywords you are targeting, the next thing is to insert them into specific places on your page, like the title and header tags. The Search engine bots use these tags to learn what the page is about and index it appropriately.
The title tag is what's displayed the most prominently in the search results pages (see below).

Image helps to make your site look good and convey certian info you want the readers to be fascinated to. But images can slow down the website speed if it is not optimized and that can be a problem.
The alt tag serves several purposes:
It enables your website accessible to visually-impaired readers who rely on screen readers to browse the internet.
If your image fails to load, the alt-text will appear in its place.
It aid search engines to understand the image and index it properly.
This has impact on search ranking. A bad URL link will cause more harm than good for your site ranking.
URL with many mixed characters doesn't help search engines learn about the page.
Ensure to use search engine friendly URL.
5. Know what content-type works on each social media platform
To develop contents for your social media marketing, you need to know what kind of content works for the different platforms.
The content that works for one social media platform may not work for the other.
A post from sporutsocial shows "why consumers unfollow brands on social media"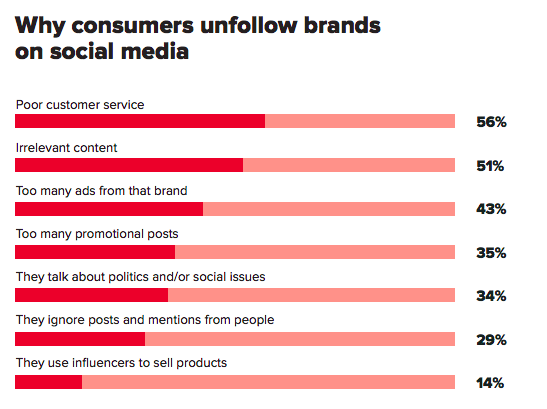 Let us take a case study of an eCommerce business that sells shoes, bags, perfumes, clothes and glasses and a Financial firm. The two businesses are of varying types which is B2C and B2B.
The eCommerce business sells more to individuals and involves the use of more media content (pictures and videos) in their post. Hence, they leverage social media platforms like Facebook, Instagram, Pinterest and Tiktok.
On the other hand, the Financial service provider is targeted towards corporate individuals or firms. The kind of post expected from such business will be articles and statements. the best platform that that is built for professional networking is Linkedin. You find profesionals from all works of life on Linkedin. Companies leverage the platform too on a B2B bases.
The type of contents to post on these platforms vary. It is important to choose a platform that is best suitable for the type of content your business is offering.
5. Understand your business and which social network
Social media has now evolved unlike the early years when many platforms used to focus on one function, such as social networking or image sharing. Now, most social media platforms have excalted to incorporate live streaming, augmented reality, shopping, social audio, and more.
In the first point, we talked about identifying your audience and also knowing where you can find them. This is vital as to selecting what sociasl media platform you wish to use for your business.
We also pointed to a factor in the targeting that is location. Yes, your location matters when choosing the platform to use. From Wearesocial report, as seen below, you will observe in other of relevance that Whatsapp, Facebook, Youtube, Instagram, Messenger, twitter, telegram, Linkedin, TikTok, Snapchat, Pinterest and Skype are the most used platforms.
Having issues in making a choice which social medianetwork to use? We are here for you. Send us a brief and we will schedule a meeting with you (your team)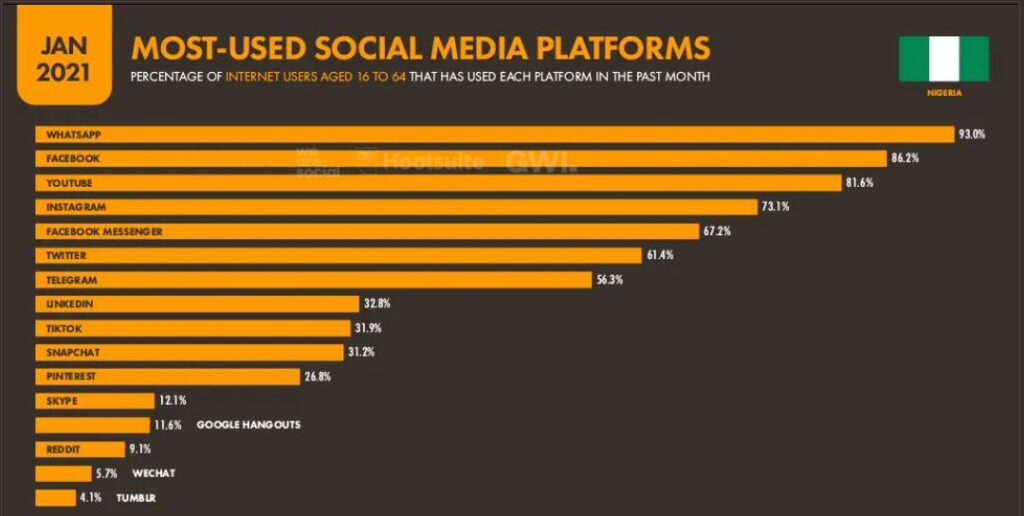 Having issues in making a choice which social media network to use? We are here for you. Send us a brief and we will schedule a meeting with you (your team). We are a call/chat away from you.
6. Let your platforms support each other
You can use your social media to drive traffic to your website or blog. You may have a video published on youtube and also share on IGTV. You can also share blog/website content on Linkedin.
Having more than one social media network avails you the opportunity to repupose contents from one form to another.
You can meet your diferent audience on the different platforms. Also, Some platforms enable you to share from theirs to another. For instance, you can share a post on Instagram and reshare to Facebook and Twitter.
You need to be consistent on social media if you want to successfully achieve the goals. If you post regualarly, you definitely get better result than someone that post once a month or once in three months. Consistency is key with all social media platforms. 
Off-page Google ranking factors
The activities performed outside your website to help in its ranking is what we call Off page SEO.
Backlink is a hyperlink that emanates from a web page outside of your site. In 1996, Google launched it's PageRank algorithm update which says that the number and quality of links to a page would be a strong indicator and signifies the  quality of the web page.
Technical Google ranking factors
Technical SEO is very important in Search engines as it helps how bots crawl and index all of the information that's featured on a website. You need to fix a few core technical elements that need to be working properly. 
Here are the technical strategies for improving your rank:
Speed is one of the major ranking factors in SEO. We all ahte a site that takes forever to load. No time to waste time. It is important to have a website that loads quickly and seamlessly.
It no more a hidden secret that Google uses mobile-first indexing in crawling websites. Nowadays, search engine uses the mobile version of a website when evaluating a web page.
No matter how perfect your desktop version of your website is, you need to  optimize for mobile. It is recommended to preview your web pages to on mobile to see how it adapts on different types of devices, not just desktop.
Web crawlers use internal links as a signal (road map) that helps them to analyze and properly index a site's information.
"Internal links" refers to any hyperlink that points to an internal page within your website.
From above, we know we need social media marketing for our businesses as it creates a sphere for businesses to connect with more customers and make more sales. It is recommended to have the number of platforms that you can effectively manage and deliver than to be on all without a purpose. 
In Choosing what platform works best for you, you can monitor, track and achieve your social media business goals effectively compared to being active on every platform there is and which may not be used in your location or does not fit your business.
Share with us what social media platforms you currently use and what other channels are you looking to explore?
We wish to conclude with this quote
 "Conversations are happening whether you are there or not."
Kim Garst