There is the need to selecting the right social media platform to use  to promote your business. Marketing has eveoled beyond the usual conventional way, it is now about telling stories. You share post to sell your products.
A report released by Yahoo, says that 50% of consumers have made a purchase based on recommendations on social media.
With almost every one on social media, you quite agree that it is a marketing force to reckon with. Social media platforms are the only place where you can make your stories heard by millions of people. 
Once you've decided to invest in social media marketing, the next thing is to decide which social media platforms you should focus on.
You need to be delibrate and strategic about what social media platforms you wish to use for your business. This is  very important and in this post, we identified factors to consider before amking a move.
Tips to Pick the Best Social Media Platform for Your Business
It is a known fact that every social media platform comes with it's own set of features and limitations and you have to focus on making the most of what each platform has to offer. 
1. Identify your target audience
You need to understand the target audience your business interests as it helps you connect better with your customers while satisfying their needs.
Your target audience are the specific group of consumers (audience) most likely to engage your product or service.
A comprehensive understanding of who your customers (target audience) are would help develop a content strategy for your business, create an audience profile and aid to find your customers on social media.
2. Locate your target audience where they are
When you have identified who your target audience are, the next thing is to find out where they visit online, when they visit such platforms and what they do on these platforms.
You need to develop a strategy to meet them on those platforms where they hangout. Please understand that every social media platform is unique to its users.
You can use age, gender, income, location, interests or a myriad of other factors to determine your target audience.
Another important thing to note here is that the audience on Linkedin do not respond the same way to certain messages as to the audience on Facebook or Tiktok. 
How to Find Your Target Audience
The use of Google Analytics to learn more about your customers.
Create a reader persona to target blog content.
Look at social media analytics.
Use Facebook Insights to know more.
Check website performance.
Engage with social media audiences.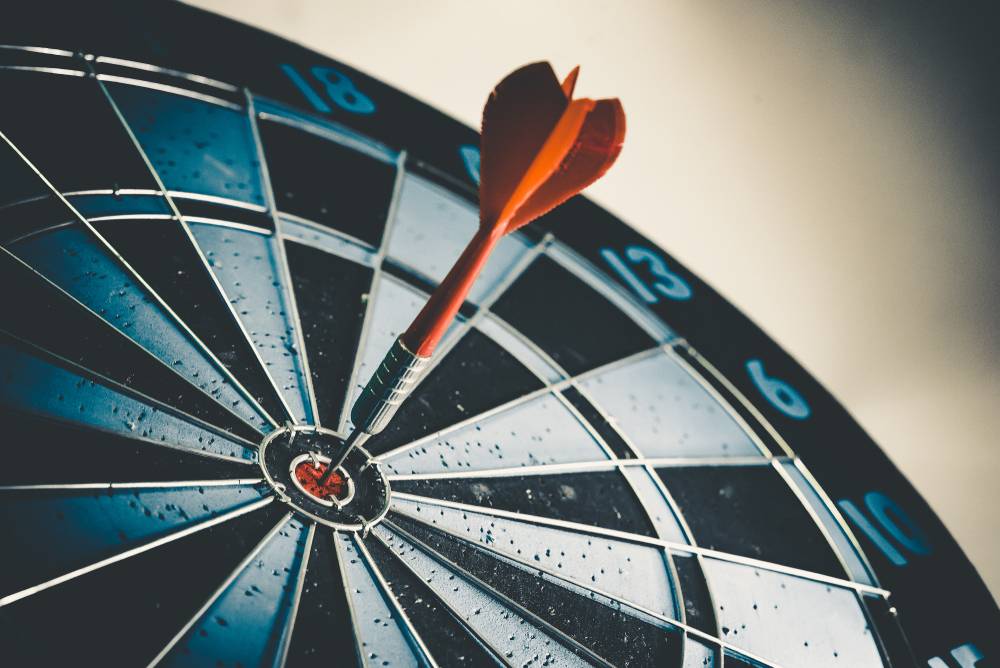 3. Know what content-type works on each social media platform
To develop contents for your social media marketing, you need to know what kind of content works for the different platforms.
The content that works for one social media platform may not work for the other.
A post from sporutsocial shows "why consumers unfollow brands on social media"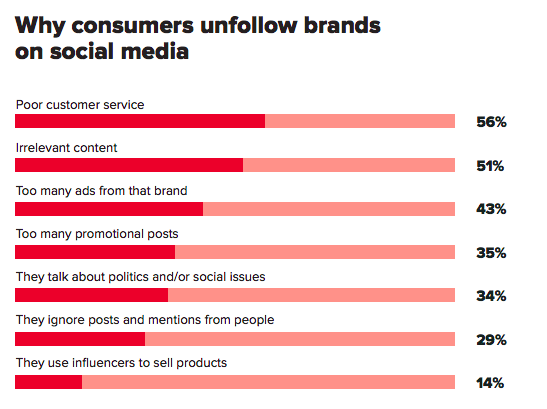 Let us take a case study of an eCommerce business that sells shoes, bags, perfumes, clothes and glasses and a Financial firm. The two businesses are of varying types which is B2C and B2B.
The eCommerce business sells more to individuals and involves the use of more media content (pictures and videos) in their post. Hence, they leverage social media platforms like Facebook, Instagram, Pinterest and Tiktok.
On the other hand, the Financial service provider is targeted towards corporate individuals or firms. The kind of post expected from such business will be articles and statements. the best platform that that is built for professional networking is Linkedin. You find profesionals from all works of life on Linkedin. Companies leverage the platform too on a B2B bases.
The type of contents to post on these platforms vary. It is important to choose a platform that is best suitable for the type of content your business is offering.
4. Understand your business and which social network Works
Social media has now evolved unlike the early years when many platforms used to focus on one function, such as social networking or image sharing. Now, most social media platforms have excalted to incorporate live streaming, augmented reality, shopping, social audio, and more.
In the first point, we talked about identifying your audience and also knowing where you can find them. This is vital as to selecting what sociasl media platform you wish to use for your business.
We also pointed to a factor in the targeting that is location. Yes, your location matters when choosing the platform to use. From Wearesocial report, as seen below, you will observe in other of relevance that Whatsapp, Facebook, Youtube, Instagram, Messenger, twitter, telegram, Linkedin, TikTok, Snapchat, Pinterest and Skype are the most used platforms.
Having issues in making a choice which social medianetwork to use? We are here for you. Send us a brief and we will schedule a meeting with you (your team)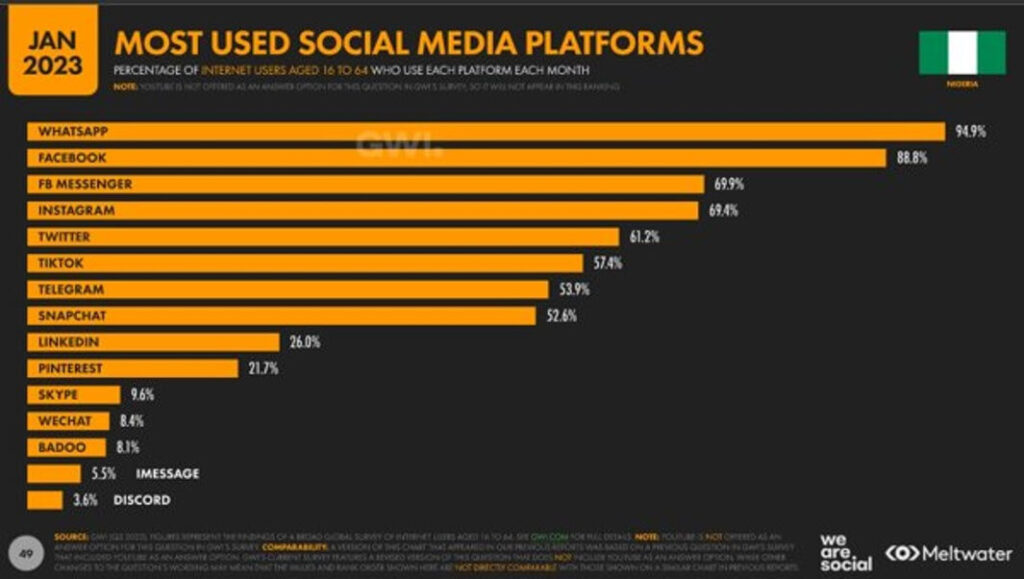 Having issues in making a choice which social media network to use? We are here for you. Send us a brief and we will schedule a meeting with you (your team). We are a call/chat away from you.
5. Let your platforms support each other
You can use your social media to drive traffic to your website or blog. You may have a video published on youtube and also share on IGTV. You can also share blog/website content on Linkedin.
Having more than one social media network avails you the opportunity to repupose contents from one form to another.
You can meet your diferent audience on the different platforms. Also, Some platforms enable you to share from theirs to another. For instance, you can share a post on Instagram and reshare to Facebook and Twitter.
You need to be consistent on social media if you want to successfully achieve the goals. If you post regualarly, you definitely get better result than someone that post once a month or once in three months. Consistency is key with all social media platforms. 
From above, we know we need social media marketing for our businesses as it creates a sphere for businesses to connect with more customers and make more sales. It is recommended to have the number of platforms that you can effectively manage and deliver than to be on all without a purpose. 
In Choosing what platform works best for you, you can monitor, track and achieve your social media business goals effectively compared to being active on every platform there is and which may not be used in your location or does not fit your business.
Share with us what social media platforms you currently use and what other channels are you looking to explore. If you need an agency that can help you build and manage your social media page, look no further as we are your best plug. Hit us up and we will get back to you Asap
We wish to conclude with this quote
 "Conversations are happening whether you are there or not."
Kim Garst